Join 150,000 companies using Track1099
"The quality of Track1099's offerings, the ease of use, and their customer support are benchmarks against which we measure other cloud-based platforms."
Manager of Outsourced Finance & Accounting at Armanino LLP
How many 1099, W-2
1095 & 94x forms?
ALL INCLUSIVE PRICE PER FORM

$0.00

First 10 forms
$2.90 each
Next 150 forms
$1.99 each
Form 161-500
$0.89 each
Form 500+
$0.59 each
How it works
No 1096 or W-3 required
Sign up for free. We don't charge until you schedule e-file.
The more forms you file, the less expensive they become.
No extra fee for incremental e-filing.
No minimum fee, no hidden costs.
See our Pricing video.
PRICES ARE ALL INCLUSIVE
E-file to the IRS & SSA*
E-delivery to recipients
E-corrections for recipients
Create a Team
IRS TIN Matching file
Meets new IRS Jan 31st deadline
E-file available throughout year
E-file prior years
PDF & CSV files
Import via CSV, QBO, QBW, Xero, Bill.com, NetSuite
*State W-2 filing not available, 94x series must be signed & mailed

Postal mail to Recipients
If you don't have recipient email, you can download a PDF after scheduling e-file and mail yourself for free on plain paper; no special IRS forms are required.
Please see our Postal Mail Video.
Address format suitable for #10, double-windowed envelopes.
Track1099 offers weekly postal mail Jan. through Mar. for +$1.59 per form.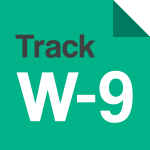 Online W-9, W-4, W-8BEN and
W-8BEN-E Annual Subscriptions
Individual
25
W-9, W-4, W-8s
$9/per year
unlimited companies
Professional
250
W-9, W-4, W-8s
$59/per year
unlimited companies
Enterprise
9000+
W-9, W-4, W-8s
$199/per year
unlimited companies

E-file times and refunds
We e-file and e-deliver each day at 8pm PST.
You can request a refund up to the date that e-file or e-delivery is scheduled.
After e-filing or e-delivery, we do not offer refunds.